Is your ophthalmic equipment or instrument broken and in need of some TLC?
With over 30 years in the Ophthalmic Industry, Sun Medical technicians are uniquely qualified to provide service and repair on your lane and pretest equipment. They have been trained by

And can repair and service the following and more
American Optical (AO) chairs and stands, custom 1 and custom 2
AO Phoropters
Burton chair and stands
B&L greens, keratometers
BIO's, Keeler, Frigitronics, and Mentors
Haag Streit Goldmann Visual Fields
Haag Streit Slit Lamps and Tonometers
Phoropters, all makes and models, even B&L Greens Phoropters
Reliance chairs and stands, all makes and models
Reichert chairs and stands, all makes and models
Reichert Phoroptor, Ultramatic, RXMaster
Topcon Fundus Cameras (Retinal Cameras), NW100, NW200, NW6S, 50vt, 50ex, 50x, 50ix, 50ia
Topcon Autorefractors
Topcon Phoropter VT-10
Topcon Autorefractor keratometer and Autorefractor topographer
Topcon Slit Lamps, all makes and models, 2D, 2ED and Tonometers
Zeiss 100/16 slit lamp
Zeiss 125/16 slit lamp
Zeiss 30 series slit lamps and 20 series slit lamps
Zeiss OMNI series microscopes, all makes and models
Zeiss Visual Fields 600 and 700 series
If you don't see it listed, please inquire. Sun Medical specializes in all things related to Ophthalmic Equipment and Instruments, we cannot list them all.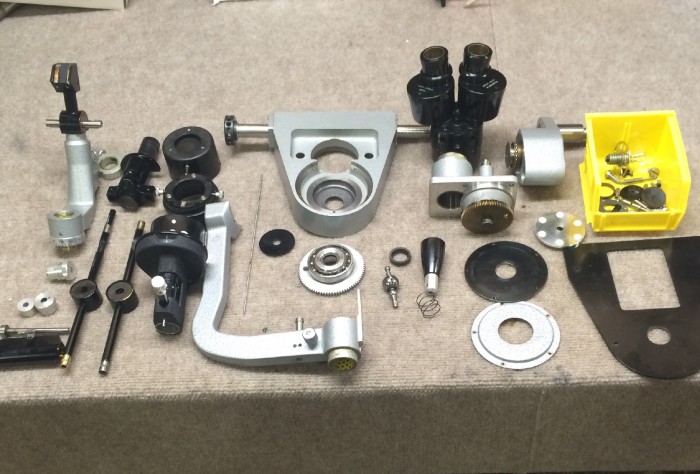 Phoropter Cross Cylinder Repair
A rebuild of the cross cylinder on an AO phoropter.